If there wasn't a picture on the 'gram, did you even go to Disney? We caught up with one of or favorite content creators, @ashleyinorlando to find out where best photo spots in Walt Disney World!
There are SO many great spots to pose with your Loungefly around Orlando! The one thing I love most about Loungefly is the creativity that goes into the bags! They are perfect for any Disney occasion and also any day out on the town.  The first Loungefly bag I styled was my Mickey Ice Cream Bar bag! I first took it to Celebration, Florida for a spur of the whim trip to get some delicious ice cream. My favorite Ice Cream flavors are Birthday Cake, Cookies & Cream, and of course you can never go wrong with Dole Whip! Unsurprisingly, I got so many compliments on my bag at the ice cream shop – everyone loved it!!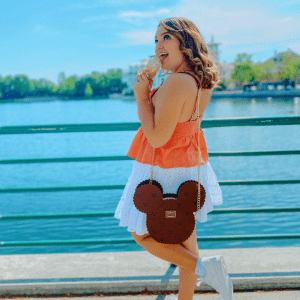 Next up on my tour, was a trip down to Sunset Blvd at Hollywood Studios! On Sunset Blvd there is a PERFECT place to get ice cream at Hollywood Scoops! I just knew that this bag was perfect for matching with my choice ice cream sundae. If you're feeling spontaneous you can take it along with you on the Tower of Terror!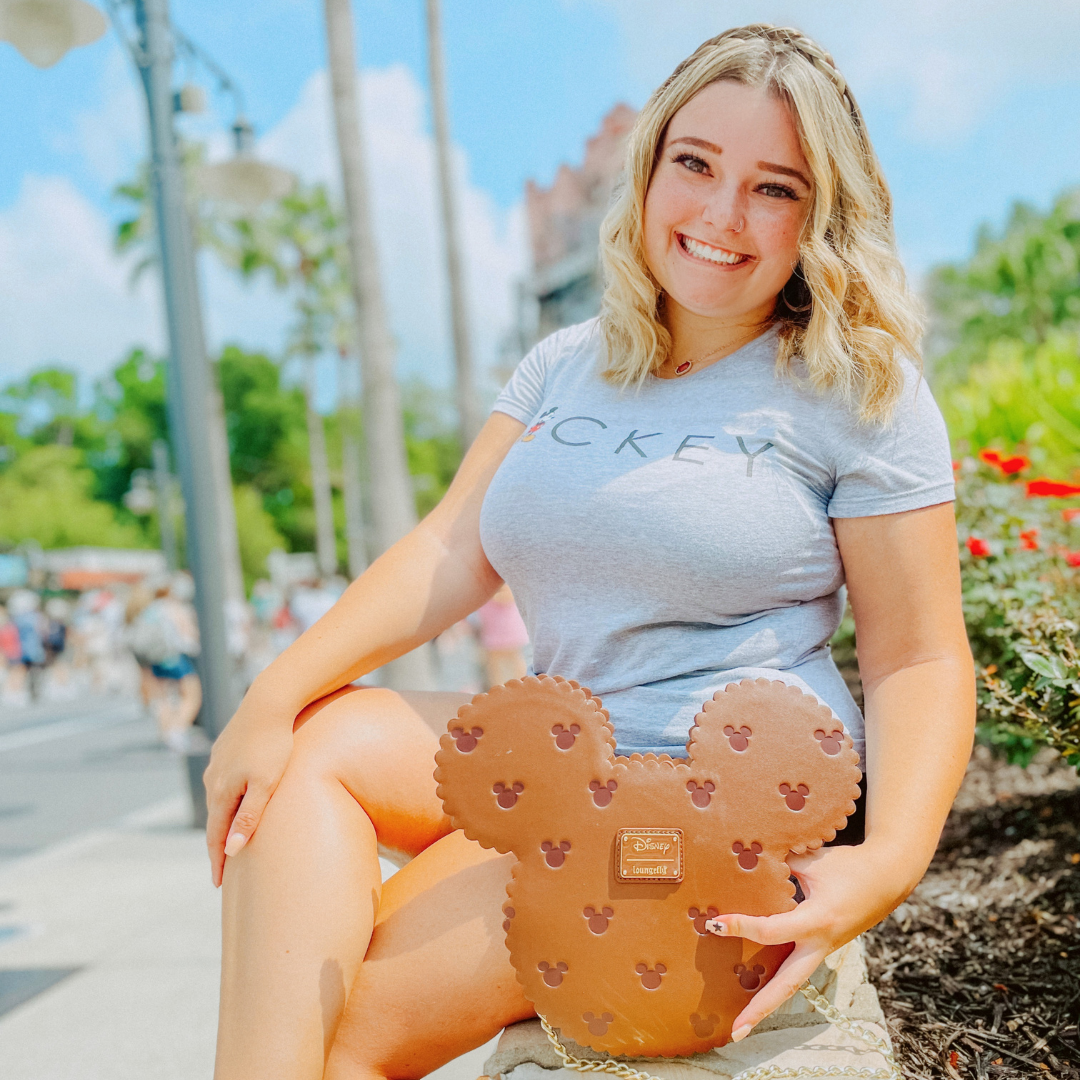 The second Loungefly bag I styled was my Little Mermaid bag over at Magic Kingdom. I just had to bring this bag along with me to ride Ariel's Undersea Adventure! Prince Eric was always my favorite Prince growing up, because of his charm and good looks, so this bag was a MUST! I also purchased a blue balloon earlier that day to match my Loungefly! It's super fun when you're riding Ariel's Undersea Adventure and your bag is inspired by one of the very scenes that is in the movie!  
Last but certainly not least, I styled my Chef Remy bag at Epcot near the France Pavilion! Ratatouille has always been one of my absolute favorite Pixar films. This bag will be so perfect when the brand-new Ratatouille ride releases this October, and also it is perfect for a trip to Epcot during the Food & Wine Festival! I decided to pose with this bag near the Remy Topiary since they matched perfectly.
There's tons of other places you can pose with your Loungefly, along with places I have already mentioned. Some other examples are…
In front of Cinderella's Castle 

 

The Purple Wall (Located at Magic Kingdom)

 

Tomorrowland, Fantasyland, Adventureland, Frontier Land

 

In front of the Epcot Ball

 

The Bubblegum Wall (Located at Epcot) 

 

Any of the countries at Epcot

 

Any of the Disney Resorts

 

Anywhere down Sunset Blvd at Hollywood Studios 

 

Galaxy's Edge

 

Toy Story land

 

In Front of the Tree of Life at Animal Kingdom 

 

Dinoland at Animal Kingdom 

 
You really can get creative with where you style your Loungefly's, and with so many different designs to choose from, there is a bag for everything you could ever wish for! I hope these tips helped, and if you would like some more inspiration on where to pose with your Loungefly around Orlando, make sure you give me a follow @ashleyinorlando! Have a magical rest of the week!  
Sincerely,  
Ashley @ashleyinorlando
XOXO