Barbie day is upon us (9th March), and on this day marks Barbie's 63rd birthday. The 11-inch-tall blonde bombshell first made its appearance at the America International Toy Fair in New York 1959. Since then, she has become incredibly popular.
Barbie inspired millions of women around the world, although evoking controversy for generations it is still one of the most well-known dolls in history, and possibly worth a fortune to collectors today.
Here at Very Neko, we have pulled data from Ranker.com to find the most valuable vintage Barbies. Here are the top ten: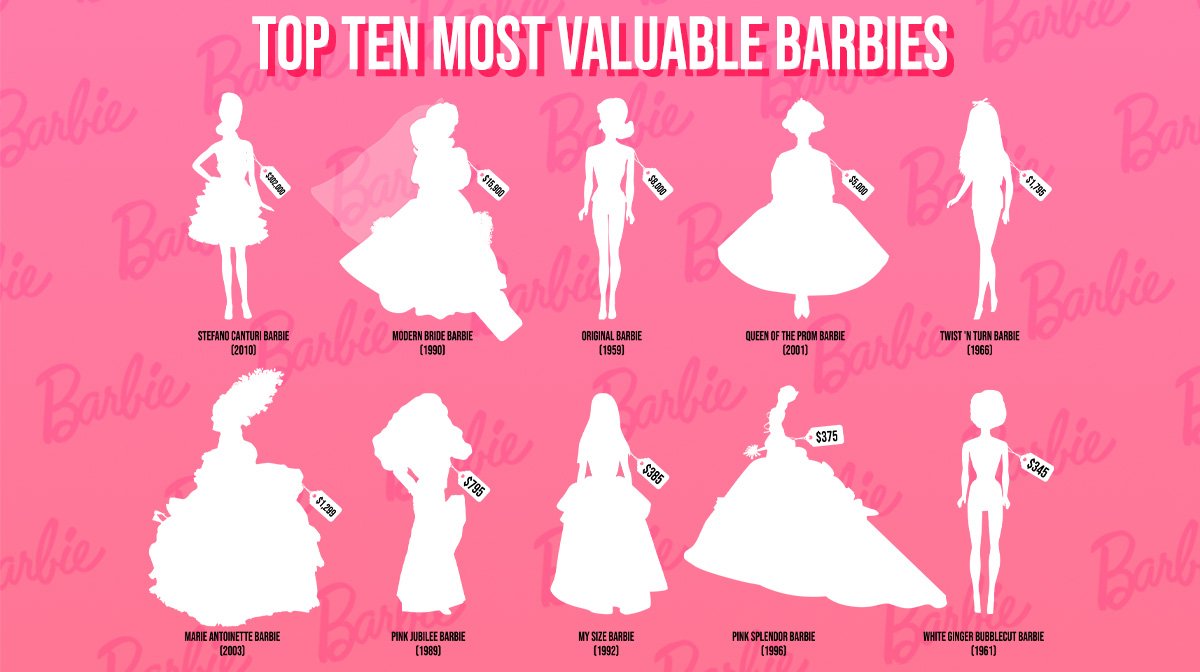 Stefano Canturi Barbie (2010): $302,000
Stefano Canturi Barbie mad an appearance at Australia Fashion Week 2010. She wore a gorgeous black ruffle dress paired with a white and pink diamond necklace. Jewlery designer, Stefano Canturi and Mattel collaborated on this doll for an auction helping Breast Cancer Research Foundation and sold for £302,000
Modern Bride Barbie (1990): $15,900
Modern Bridge Barbie made for the Modern Bride Magazine 1990. Dressed in a beautiful white contemporary wedding dress sells for $15,900.
Original Barbie (1959): $8,000
The first ever Barbie doll was release in 1959. She had blonde hair and was wearing a zebra print swimsuit. If in fantastic condition and boxed it could set you $8,000 richer.
Queen Of The Prom Barbie (2001): $5,000
There were only 30 Queen of the Prom Barbies made for the 2021 Barbie Convention. Wearing a gorgeous aqua gown, it sells for around $5,000.
Twist 'N Turn Barbie (1966): $1,795
This Twist 'N Turn Mod Barbie Collection was different from all the others. This Barbie had a bendy midsection and legs and fluttery lashes. If you still have yours and is in mint condition it could be worth $1,795.
Marie Antoinette Barbie (2003): $1,299
In 2013, Mattel released a sophisticated Barbie as part of the Women of Royalty series. The gown is handcrafted with a luxurious gold trim, perfect fit for any queen. It sells on eBay for $1,299
Pink Jubilee Barbie (1989): $795
In honour of Barbie's 30th anniversary, Mattel released the Pink Jubilee doll in 1989. The delicate outfit is pink with silver accents, and really makes her stand out. The limited edition doll goes for roughly $800.
My Size Barbie (1992): $385
Remember when we all wanted a My Size Barbie? She was 3 feet tall and had the ability to share her clothes with the owner. No wonder why she was so popular as she resonated with her audience. While this doll may have been cheap in the 90's it could now be worth $385.
Pink Splendor Barbie (1996): $375
Mattel launched a doll collection called the Pink Splendor Barbie – a beautiful Barbie dressed in a fluffy pink gown made of lace and silk. There we're only 10,000 of this doll that was released and was sold for $900 at the time. It's currently going for roughly $375, so it's a damn right steal!
White Ginger Bubblecut Barbie (1961): $345
When bouffant hairdos was popular in the 60's, Mattel launched a Barbie with a bubblecut hairdo. These dolls had ginger hair, and we're particular rare due to their unique lip shape. If you still have yours, it could sell for $345 on eBay.
There you have it, the top ten most valuable Barbies. The doll lying in your attic could now be a worth a fortune! Shop for all things Barbie here.